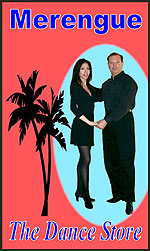 Merengue Volume 1
(Beginner - Intermediate)



This tape is fully suitable for the complete beginner. This tape starts at the very beginning and it explains the basic step, how to count the music, and, most important, how to achieve "Cuban motion." Our video shows a simple sure-fire way to achieve the "Cuban motion," which is so important for this dance. We also show you how to avoid common errors. This video goes on to show all of the most common and familiar Merengue patterns and it goes further to show pretzels and tunnels.

This is a great video! It shows the most important and the most leadable Merengue figures. The video includes an index, listing all of the twenty steps. In addition, as they are shown, all steps are named and introduced by a title. This video was filmed in broadcast quality digital video with stereo, CD-quality sound.


Side Chasse Basic Step. What's important here is the hip action. Jamie, who's a popular dancer in the Richmond-area Latin clubs, shows you how to do this correctly.

Rotating Basic Step

Separation and Movement Back to Closed. Almost every dance has a "release to open" and "movement back to closed" step.

Dancing Apart in Open Position

The Open Break. The open break is used to set up many figures.

The Open Break and Four-Count Natural Underarm Turn

The Eight-Count (Slow) Natural Underarm Turn

The Reverse Turn

Half Turn Rotation in Open Position (Trading Places)

Alternating, She Goes / He Goes Turns

Leader's Double Hand Change Turn to Left

The Back Spot Turn

Adios. This is similar to the popular salsa figure.

Leader's Spin Following Back Spot Turn

She Goes Under / He Goes Under / She Goes Under

The Leader's Pretzel. Popular in swing dancing, this figure is fun and it's a perfect fit in merengue.

The Pretzel with Wrap and Duck Out

Slow Tunnel


Double Slow Tunnel



Spot Pivot


Instructors:

Joe and Jamie
Length: about 85 minutes
Number of Patterns: over 20
DVD: $30