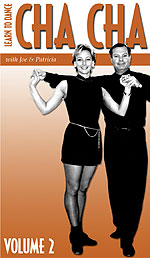 Cha Cha Volume 2 (Intermediate - Advanced)



This tape is not for the beginner. You will need to be familiar with cha cha timing, and with figures such as crossover breaks, spot turns, and cross body leads before starting this tape. Leadable cha cha figures for social dancing are hard to find and this tape contains a boatload of "lead and follow" patterns that you can use in social dancing. This tape also contains an entire cha cha dance routine broken down into segments.
Starts with a full song demo dance
Section 1
Brief review of the basic step and the count. Review of some basic figures: basic to crossover breaks (New Yorkers), Crossover breaks to spot turns, underarm (arch) turns, Free spins, Patti cake free spins, syncopated crossover breaks, back breaks (hand to hand), swivels.
Section 2
Crossbody lead, crossbody lead to crossover break, crossbody lead with inside reverse turn, Paseo, open hip twist, fan to hockey stick, hockey stick overturned with inside reverse turn to crossover break, variation with syncopated crossover breaks.
Section 3
Chase (visual, "follow the leader"), turnstile figure and turnstile figure into chase, chase with free spins.
Section 4
Triple cha cha cha's. Variations: triple cha cha cha's in crossover breaks, triple cha cha cha's in Patti cake palm touches.
Section 5
Side to side in cape position, side to side adding free spins, advanced entry into side to side.
Section 6
Turkish towel. Combination: Turkish towel to overhead back wrap into swivel struts for the lady.
Section 7
Outside turns and syncopated outside turns, outside turns to triple cha cha cha Patti cakes. Samba breaks in cha cha. Combinations of these.
Section 8
Reverse whip (RW) patterns. RW to outside turns. RW to barrel roll turns. RW entry to natural top (back spot turn).
Section 9 (hot stuff)
Oversway dips and Latin sweeps ("the rag doll").
Section 10 (West Coast swing type figures)
Arm catch and flick to crossover break. Lunge to crossover break.
Section 11
Natural top/reverse top and check/natural top. Natural top with rope spin to walkaround and outside turns.
Section 12
Behind the back hand changes (BTBHC) and BTBHC to triple cha cha cha's.
Section 13
A full choreographed routine broken into four amalgamations, containing most of the figures above. Combined, these create a leadable dance routine. The routine is designed to "present" to an audience. Each amalgamation is broken down to count and then demonstrated to music. The routine is about 2.5 minutes in length, depending on music tempo. Note: this routine is not for a beginner. I would say an average amateur ballroom dancer could handle this routine.
Instructors:

Joe and Patricia


Length: about 78 minutes
Number of Patterns: over 30, plus a complete dance routine
DVD: $30